Eibhlin Glenholmes 'has right to join forum'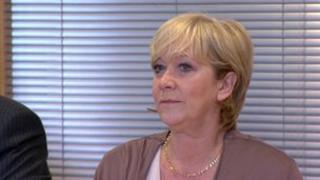 Two people who had relatives murdered by the IRA have said Eibhlin Glenholmes has a right to join them on a new victims forum due to meet later.
Ms Glenholmes was once described as one of the most wanted IRA suspects in Britain.
The Victims Commisioners' decision to appoint her to the Victims and Survivors Forum has been attacked by some unionist politicians.
But commissioners argued she qualifies as she was shot and injured in 1974.
Forum member Ann Travers, whose sister Mary was murdered by the IRA, admitted she was shocked when she first heard of the appointment.
"I didn't know her background until a couple of days prior to the story breaking," she said.
"I felt quite uncomfortable. Actually I felt quite upset but I appreciate the commissioners have the right to invite whoever they wish onto the forum and I appreciate Eibhlin Glenholmes' right to be there.
"She was shot whenever she was 16 and just as it was wrong for gunmen to murder my sister it was wrong for gunmen to go and shoot her.
"It is not going to be very easy; I don't know if I'm going to have any conversation with Eibhlin Glenholmes in the immediate future. It may well be quite awkward.
"It is going to be very difficult for me to trust her because of her background and because of the associations that she has and that's the truth."
Another member of the forum is Stephen Gault who was injured in the Enniskillen bomb in 1987. His father was killed.
He already met Eibhlin Glenholmes when the new forum members attended an introductory session in Donegal.
"I've spoke to her, yes. I wasn't aware of her background until it broke on the news a couple of weeks ago but I got on OK with her."
He said he was there "as an innocent victim of IRA terrorism."
However he does not dispute her right to be there as well.
"I mightn't necessarily agree with Miss Glenholmes' background. She is a victim in my eyes, so she has every right to be there."
Peter Heathwood, paralysed after being shot by loyalists in north Belfast, said the politicians must listen if the 23-member forum comes up with an agreed policy.
"If the people who suffered for all those years say to our politicians here's the way forward, how can they say no its not the way forward?"
Outgoing Victims Commissioner Bertha McDougal said deciding who would be on the forum was "a bit like putting together a jigsaw".
"It was ensuring that in this process we had the range of experiences geographically, gender issues, historically representat ion from the main groups and the perceived religious backgrounds."