Ulster Bank technical glitch delays thousands of payments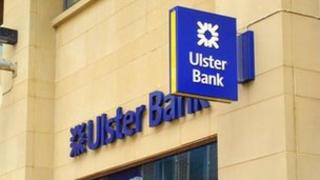 More than 100,000 Ulster Bank customers have been affected by ongoing delays in processing payments.
Payments affected by the technical problems include salary transfers and some social welfare benefits.
The bank has warned it could be until Friday before the backlog is cleared.
A spokeswoman said they were "working hard to minimise the impact and will ensure that those who are affected do not suffer any financial loss".
"Ulster Bank customers can access their money as normal through our branch network," she said.
"ATM and Anytime internet and mobile banking services are available but are reflecting the one-day delay in customers' balances."
About 80 Ulster Bank branches will remain open until 19:00 BST on Friday for people unable to get to the bank during working hours.
Customers at its sister banks Natwest and RBS have also been experiencing problems.
The spokeswoman added: "We appreciate that this is having significant impact on many of our customers and customers of other banks and we apologise unreservedly for this."
The Consumer Council has said it has sought reassurance that Ulster Bank customers will not incur any additional charges as a result of the bank's technical issues.
"The Consumer Council acknowledges the commitment given by Ulster Bank but intends to monitor this situation so that the bank ensures no customer loses out as a result of this error," the council's Antoinette McKeown said.
A number of those affected by the problems contacted BBC Newsline on Facebook to voice their concerns. Some people's salaries had not been processed, while others had encountered problems withdrawing money from their bank accounts.