Banned driver pleads guilty to killing 12-year-old boy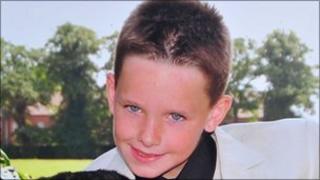 A banned driver has pleaded guilty to killing a 12-year-old boy by dangerous driving.
Andrew Paul Morrow, 33, from Vara Drive in north Belfast, also admitted causing the schoolboy's death by driving while disqualified and without insurance.
Daniel Mooney was riding as a pillion passenger on Morrow's scrambler motorbike in May 2011 when he fell off.
He died from the head injuries he sustained. He was not wearing a helmet.
At a previous court hearing Morrow admitted charges of failing to remain at the scene and failing to report an accident.
Sentence was adjourned pending pre-sentence probation reports and the outcome of proceedings against Morrow's co-accused, Dean McComb.
Mr McComb, 19, from North Queen Street, Belfast faces similar charges.