£1.1m cannabis haul hidden amongst frozen chips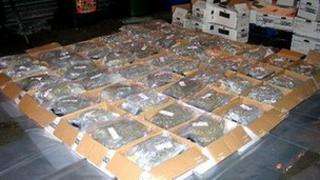 A lorry driver from Northern Ireland has been jailed for three years for trying to smuggle 339 kgs of cannabis into the UK in boxes of frozen chips.
The estimated street value of the drugs was £1.1m.
Nigel Donnelly, 44, from Cookstown, was stopped by UK Border Agency officers at the inbound freight controls at Dover on 17 February 2010.
Officers searched the load of frozen chips and found that 48 of the boxes contained both chips and cannabis.
Donnelly had denied the smuggling charge but was found guilty by a jury at Maidstone Crown Court following a trial.
Malcolm Bragg from Border Force said: "Our officers are on constant alert to keep illegal drugs and other banned substances out of the UK, and take them out of the supply chain before they reach the streets.
"Drug use destroys not only the lives of individual users, but also their families and the wider community."