Catholic bishops in call over academic selection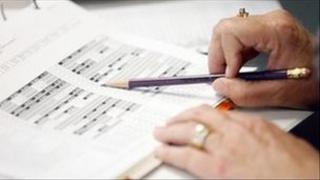 The Catholic Bishops of Northern Ireland have called on all political parties to agree on a better system of transfer to post-primary schools.
In a statement on the issue, the bishops said academic selection at age 11 had "outlived its usefulness".
It called on Catholic grammar schools to operate a policy of admitting no more than 75% of pupils on the basis of academic selection by September 2014.
Grammar schools have been using their own exams in place of the 11 Plus.
Catholic grammar schools have done so despite advice to the contrary from the Northern Ireland Commission for Catholic Education (NICCE).
The last 11-plus transfer test was held in November 2008, but there has been no political agreement on a replacement.
In their statement on Thursday, the Catholic bishops said: "We support the desire of all parents for schools that will help their children achieve academic excellence.
"We are committed to ensuring that every Catholic school has this as a fundamental aim. Moving away from academic selection improves the opportunity to achieve this."
They called for all Catholic trustees to endorse a phased transition away from the use of academic selection and for all boards of governors of Catholic Schools to engage with each other during the coming academic year to discuss how to move to "high quality non-selective arrangements within their area".
"The current system of academic selection at age 11 has contributed to what is in fact a mediocre performance of the school system in Northern Ireland by international standards," the statement added.
The Auxiliary Bishop of Armagh said he accepted that the Church faced a challenge in convincing parents and some principals of Catholic grammar schools that academic selection was no longer necessary.
"I accept it is a challenge obviously, it's a challenge for all of us - it's one that I hope is being addressed in its own way in conversation with the various interests involved," Bishop Gerard Clifford said.
"But I think it would also have to be said that there is a strong, strong voice out there saying that academic selection at 11 years of age has served its purpose and we need to move on to a different system and to different opportunities for young people."