Father Boland 'felt devastated' at abuse allegations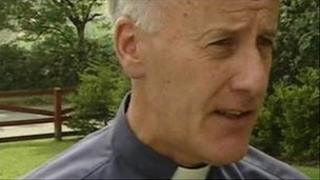 A priest felt devastated when allegations of indecent assault against a 14-year-old girl were put to him, a jury has been told.
Father Eugene Boland denies five charges of indecently assaulting the teenager at his parochial house in Londonderry more than 20 years ago.
The court was told Father Boland denied the allegations when interviewed at Omagh Police Station in April 2010.
Father Boland told the jury he could not sleep and could not eat
"I was horrified. In all my 40-years as a priest no one had ever made a complaint of any kind about me.
"To hear the allegation and the complaints, it turned my life upside down and since then it has been a living nightmare.
"I had to stand down from my ministry as a priest which was my whole life and I had to endure sensational headlines in newspapers but throughout it all I knew they were not true," he said.
He said he could not recall any awkwardness in his relationship with the complainant and he had no recollection of the alleged offences.
Father Boland admitted telling the girl that she might have been his type of woman if she were 10-years-older and he 10-years-younger.
He said he meant the comment as a compliment and it was no way suggestive or inappropriate. He said that in hind sight it was probably a clumsy thing to say.
The trial continues.