Mystery holes appear in County Down village of Shrigley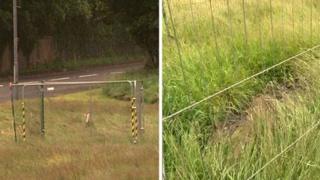 A number of large holes have mysteriously appeared in a County Down village.
The holes emerged at a grassy area in Shrigley, where old houses owned by former mill workers once stood.
The land is owned by Down District Council, which is planning to carry out subsidence repairs on the area.
Local councillor Billy Walker said: "It could have been a great danger, not just to kids, but also to council officials who cut the grass."
He added: "They use machinery that weighs a couple of tonnes, and if they had gone over one of the holes, someone could have been seriously injured or killed."
The council said it had completed a radar survey of the area and work would be carried out to fix the problem.
Grass cutting has been suspended and safety fencing has been erected around the holes.