Ulster Bank to work over weekend to fix technical problems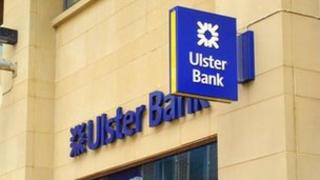 Ulster Bank has said it will be Monday before the backlog in its payments system is cleared, with many customers still unable to access their accounts.
Technicians are expected to work over the weekend in an attempt to resolve issues that meant some customers' accounts were not updated.
Twenty-eight branches across NI are to open until 19:00 BST on Friday.
A RBS Group source told the BBC the underlying issue had been fixed, but it would take time to clear the backlog.
As well as more than 100,000 Ulster Bank customers, others with Natwest and RBS accounts have also been affected.
An Ulster Bank spokeswoman said on Friday it was "still experiencing delays in updating customer balances and automated payments" because of a "systems issue".
"Over the weekend we will endeavour to clear the backlog of automated payments to ensure our customers' balances are up-to-date and that we are operational on Monday morning," she said.
"Customers who have incurred fees or charges as a result of this issue will be fully refunded in due course."
A number of those affected by the problems contacted BBC Newsline on Facebook to voice their concerns.
Some people's salaries had not been processed, while others had encountered problems withdrawing money from their bank accounts.
Business owners said it meant they were unable to pay staff and suppliers, while one woman was unable to to pay a deposit due on a new house.
Another man commented: "Can we charge the bank £30 for a late payment? They do it to us!"