Pipe bomb left at Londonderry home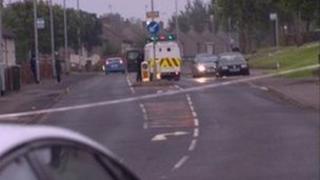 The man whose home was targeted in a pipe bomb attack in Derry has spoken of his shock.
Homes were evacuated in Montgomery Close after the device was found around 22:30 BST on Thursday.
It was made safe by army bomb experts, and was taken away for forensic examination.
The man, who does not want to be named, said he was terrified.
"I went to the kitchen and looked outside and saw a pipe bomb.
"It had wires coming out of it.
"I phoned my sister who told me to get out of the house and phone the police.
"The police arrived and confirmed it was a pipe bomb," he said.
The man who suffers from ill health took chest pains and required an ambulance.
"I didn't know what to do. I almost went to lift it and throw it away but then decided not too.
"It was terrifying. I haven't slept all night. I was aware of every noise.
"I have no idea why I was targeted. It may have been mistaken identity.
"I think I may leave this house, I have a sense of fear now.
"I had to tell my neighbours that there was a bomb at my house. It was terrible, one family had young children.
"I'm afraid now in my own home," he said.
DUP assembly member William Hay said people had been "seriously inconvenienced"
"It was late at night, and residents and young people had to move out of their homes," he said.
"We all are trying to move on, but here are people who are trying to drag us back into the past."