Peace One Day concert attracts big crowd at Ebrington Square in Derry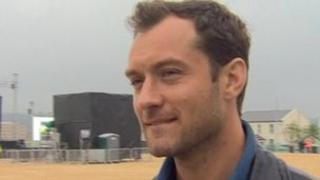 Thousands of people packed Ebrington Square last night for Londonderry's Peace One Day Global Truce concert.
Actor Jude Law hosted the night of music which marked the start of the London 2012 Festival.
Pixie Lott, Newton Faulkner, Guillemots and Dublin's Imelda May headlined the bill that also featured Derry band, the Wonder Villains.
Crowds lined the River Foyle from 15:00 BST in anticipation for what will now be known as one of the city's musical highlights.
'Honour'
People of all ages and musical tastes rushed across the Peace Bridge at 18:30 BST with their umbrellas and rain macs to get a glance at some of their favourite stars.
"It's an honour to be here in Derry" said Jude Law.
"This is a fantastic city to host such an event and I hope it sends out a clear message. I am totally delighted to make the gesture.
"Surely it's a good thing when people get together and have fun? If I got you to look back at the origins of the Olympics, it was always about truce as well and that's why it seems so apt that Peace One Day, as an organisation, is working alongside the 2012 Cultural Olympiad."
Dublin singer Imelda May said: "It's fantastic to be here for such a great cause and it's nice to be amongst such lovely people."
The jazz and rock artist, who is taking maternity leave next week, said she had been impressed with the city.
"Now that the former Ebrington Barracks has been handed over as a park area, it means the city can come together. It's fantastic and the Derry audience are as fantastic as anywhere else."
Pixie Lott closed the show just after 11pm with a set including her biggest hits, Girls and Boys and Mama Do, before the night finished with a spectacular fireworks display.
'Real buzz'
Ruth Mackenzie, director of the 2012 Cultural Olympiad, said Derry was much-changed since her first visit to the city.
"We as a group wanted to create a real buzz about the programme in 2013. The city has come a long way and it deserves this hype," she said.
"Peace One Day is an incredible organisation where artists have managed to get a world peace day from the United Nations.
"Jude Law, the ambassador, and founder Jeremy Gilley have been around the world and managed to get four million children inoculated, thanks to the global truce which has allowed aid workers to go in and work with young people around the world.
"That is a fantastic cause and we wanted a once-in-a-lifetime cultural event to match the sport."
Tickets for the event were free after film producer Michael Hamlyn offered to pay for them.
Mr Hamlyn said it had been "a night to remember".
"I'm so proud of how things went," he said.
"Again, this was a little contribution for such a great city. Hopefully we can see the city shine now in every sense."