Man dies after being struck by lorry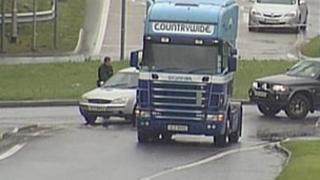 A man has died after being struck by a lorry outside Newry.
The victim, thought to be in his 20s, died following the incident on the Camlough Road shortly before 07:50 BST on Friday.
The Camlough Road roundabout has been closed and motorists are advised to seek alternative main routes.
The main A1 carriageway remains open, but the northbound on-slip lane to the Camlough Road has been closed.
Anyone with information is asked to contact police at Newry.