Old Bailey bomber Marian Price 'moved to hospital'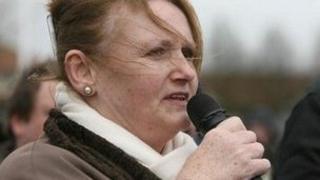 The Old Bailey bomber Marian Price has been moved from Hydebank Prison to a Belfast hospital on health grounds.
It follows medical advice from psychiatrists working for the South Eastern and Belfast Health Trusts.
Earlier this year she was moved from Maghaberry Prison to Hydebank, also on medical advice.
The Northern Ireland Prison Service has confirmed that Ms Price was transferred earlier on Friday. She remains in custody while she is in hospital.
Sinn Fein and the SDLP have led a campaign to have her transferred to hospital on health grounds, while some high-profile politicians have accused the Secretary of State, Owen Paterson, of interning her without trial.
Ms Price - who is also known by her married name, Marian McGlinchey - was convicted for her part in the bombing of the Old Bailey in 1973 but was later released from prison on licence.
Her licence was revoked by Mr Paterson last May, following a dissident republican rally in Londonderry.
'No evidence'
At the time, she was charged with encouraging support for an illegal organisation after she was filmed holding a speech for a masked man as he made threats against the security forces.
Last month, terrorist charges against Ms Price and three other prominent republicans connected to the dissident republican rally were dropped after a judge said prosecutors had placed no evidence before him.
Her three co-accused - who included Martin Canning, a brother-in-law of Sinn Fein's Martin McGuinness - were released.
However, the Director of Public Prosecutions, Barra McGrory, said he intended to pursue the case against all four and the secretary of state decided that Marian Price would be kept in prison.
Ms Price also faces charges in connection with the murders of two soldiers at Massereene Barracks, County Antrim in March 2009.
She is accused of providing property for the purposes of terrorism, namely providing a mobile phone to the murder gang who opened fire at the gates of the barracks.
UN doctors
Sappers Patrick Azimkar and Mark Quinsey, who were collecting a pizza, died at the scene.
Ms Price denies the charge.
It was reported that she was too ill to attend court last month, and she was later examined in prison by two doctors appointed by the UN.
In a statement, the Northern Ireland Prison Service confirmed that the Justice Minister, David Ford, had consulted the secretary of state before the hospital transfer took place.
"The prison service has an obligation to ensure that all prisoners receive the appropriate medical care as directed by the South Eastern Health and Social Care Trust, which has responsibility for health care within prisons.
"The trust and the prison service have discussed Mrs McGlinchey's health care needs on a number of occasions and today's transfer to an outside hospital is consistent with those discussions," the statement said.
The chairman of Stormont's justice committee, Paul Givan, said the justice minister should now assess the provision of medical treatment in prisons.
"This individual has a track record of being released from prison on the basis of medical reasons, and I think there are a number of serious questions that need to be asked," said the DUP assembly member.
'Deterioration'
"The medical professions have made this recommendation and I don't question that whatsoever.
"What I do question is why there isn't sufficient medical provision within our prison establishments for all of these needs to be met within the prison walls."
SDLP assembly member Pat Ramsey said the deterioration in Ms Price's condition had "taken the politics out of the situation".
"Any person objectively looking at the case would say a sensible decision had been made," he said.
"It's appropriate that if this lady requires medication that can only be administered in a hospital environment, that's where she should be."