Thousands of Belfast Health Trust X-rays not properly assessed
By Marie-Louise Connolly
BBC Northern Ireland health correspondent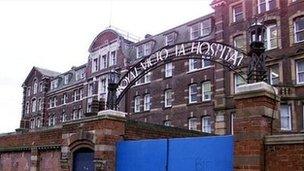 The BBC has learned that around 17,000 X-rays of patients in the Belfast Health Trust were not properly assessed.
It is understood that some of the records date back to 2007.
The trust said it was treating the incident as serious and involved mainly people who would have been treated for stomach or chest problems.
The oversight, which emerged after an audit was carried out in May this year, does not include children.
It only affects people who attended Belfast's Royal Victoria Hospital between 2007 and 2011.
The problem was brought to their attention in mid-June after an audit revealed that about 1,800 X-rays had not been properly assessed in 2011.
Those have now all been read and cleared with the trust attempting to clear a backlog of 15,729, some of which date back to 2007.
The main worry for health officials is if an X-ray may have revealed something alarming, but a patient has not yet developed any symptoms.
The trust will now have to pay companies in England to review the remaining X-rays. They insist the task will be completed in four weeks.
In 2006 the RVH changed their imaging system to more updated technology. There were no longer hard copies made of X-rays, instead there were electronic images.
The trust is blaming this on IT problems which resulted when the transfer from manual to electronic occurred between 2006 and 2007
It has prioritised the X-rays, checking all those referred by GP as category 1, then outpatient X-rays, and finally in-patient.
The health trust is already operating under special measures set by the Department of Health after a catalogue of mistakes including in the A&E.
The trust's medical director, Dr Tony Stevens, said: "These things happen. It's partly a fact of Belfast's size that we seem to have an accumulation of events, but it has been very difficult for us in the last while.
"We are working very hard to continue to build public confidence."
A helpline has been set up. It is available on 02890 630500.