Crumlin teachers resume work-to-rule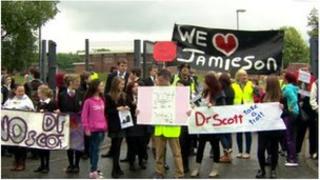 Teachers at Crumlin Integrated College in County Antrim have resumed a work-to-rule following the return of their principal, Dr Annabelle Scott.
Parents and pupils protested when she was allowed to resume her job after having been suspended for two years.
The suspension followed a very poor inspectors' report.
It is understood that members of the ATL and NAS/UWT unions had taken on extra responsibilities during her suspension.
They have withdrawn the goodwill gesture.
A spokesman for the NAS/UWT said his union has serious concerns over the principal's leadership and has endorsed the teachers' action.
The spokesman said he was not convinced that the principal's conduct and practice was in the best interest of his members.
However, teachers have been instructed to do nothing to undermine the principal.
The North Eastern Education Board has confirmed that teachers are no longer doing the extra duties that they carried out as a goodwill gesture while the principal was suspended.