False alarm! Captured Castledawson wallaby not Tyrone fugitive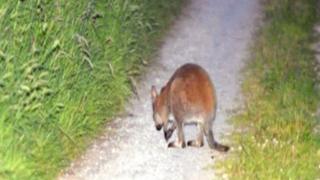 It has emerged that a wallaby captured near Magherafelt on Thursday is not the same one which escaped from a farm in Moy, County Tyrone, two weeks ago.
George and TG Troughton thought they had recovered their missing marsupial after a hectic chase through the undergrowth in Castledawson.
But having got him home, the brothers discovered the animal was not theirs.
They have discovered that the one they caught belonged to another man who had lost one in the area 24 hours earlier.
The County Tyrone wallaby was last seen at Brantry near Dungannon two weeks ago.
He had been on the "hop" since he burrowed out of his enclosure at the end of May and has evaded all attempts to catch him.
George and TG keep the animals as pets and have another two females and two babies. The one missing is the daddy of the group.
TG travelled up to Castledawson on Thursday following the sighting and after much huffing and puffing managed to grab the marsupial by the tail before bringing him back to Moy.
The search now resumes.