David Ford calls for agreement on contentious flags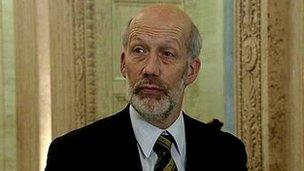 Justice Minister David Ford has said the first and deputy first ministers must agree a plan to deal with the issue of contentious flags.
Mr Ford led an Alliance Party delegation to discuss the issue with police chiefs in Newtownabbey.
He said too much police time was being taken up dealing with residents' concerns over flags.
"It is clear to me the lack of clarity from political leaders is frustrating to police officers," he said.
"I was dismayed to hear that the time devoted to dealing with residents' concerns about flags is holding the police back from carrying out the good work laid out in the local district policing plan.
"We need to support the police in their efforts to answer residents' concerns.
"We need to see the first minister and deputy first minister come up with a clear and strong protocol on flags, but there is clear resistance coming from certain parties, holding us all back."
Last summer, the removal of loyalist flags near a Catholic church triggered a night of loyalist violence in Ballyclare.
The police later apologised for the way flags were removed.