Republicans hold Belfast demonstration against Queen's visit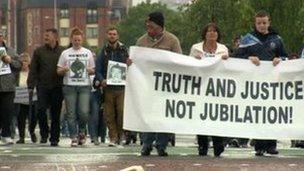 About 300 republicans have held a demonstration in Belfast to protest against the Queen's visit to the city next week.
The march, which included prominent dissident republican Colin Duffy, began on Falls Road and ended at City Hall.
Queen Elizabeth is visiting Enniskillen and Belfast on Tuesday and Wednesday as part of her Diamond Jubilee Tour.
She is expected to meet and shake hands with the deputy first minister, Sinn Fein's Martin McGuinness.