Sinn Fein Queen meeting welcomed by President Michael D Higgins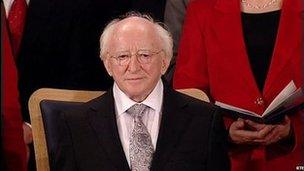 Sinn Fein's decision to meet the Queen next week has been welcomed by the President of Ireland, Michael D Higgins.
Speaking at a reception in London on Saturday, President Higgins said the move would help communities reconcile.
Sinn Fein deputy first minister Martin McGuinness is due to shake hands with Queen Elizabeth at a reception in Belfast next week.
President Higgins also said he hoped to make a state visit to the UK next year.
He is currently making his second official visit to London. During the trip, he became the first Irish head of state to visit the GAA's headquarters in west London.
Martin McGuinness, a former IRA leader, has been a major figure in the Irish peace process and has been deputy first minister of Northern Ireland for five years.
He is expected to meet the Queen at an event organised by Cooperation Ireland on Wednesday. President Higgins is also expected to attend.
Both the Queen and President Higgins are patrons of the organisation, which was founded in 1979 and seeks to promote good relations between Catholics and Protestants on both sides of the Irish border.
The Queen is in Northern Ireland as part of her Diamond Jubilee Tour.
Sinn Fein's decision over the meeting was taken at a gathering of its Ard Comhairle in Dublin on Friday.
Speaking after the meeting, party president Gerry Adams described the decision as "good for Ireland" and "the right thing to do at the right time and for the right reasons."
The decision has also been welcomed by the Northern Ireland First Minister Peter Robinson and the Secretary of State for Northern Ireland, Owen Paterson.
Related Internet Links
The BBC is not responsible for the content of external sites.