Seven councils join food hygiene rating scheme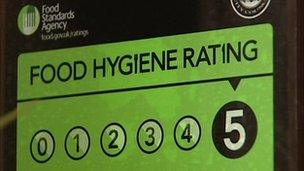 Another seven councils in Northern Ireland have signed up to a scheme to improve food safety standards in restaurants and food outlets.
The Food Hygiene Rating Scheme is now being operated by 24 councils in conjunction with the Food Standards Agency.
The councils joining the scheme on Monday are Antrim, Ballymena, Limavady, Lisburn, Moyle, Larne and Newtownabbey.
The remaining two councils are due to join later this year.
Ratings on a scale of zero to five are displayed on stickers at premises, and are also published online .
Three quarters of food businesses in Northern Ireland have received one of the top two ratings.
Michael Jackson of the Food Standards Agency said the scheme had received a mostly positive response since it was introduced just over a year ago.
"With some businesses, it has made them realise that they could do better," he said.
"For example, some businesses are moving up from a rating of three to the top grade of five, which is very good.
"It is providing businesses with the motivation to do improve their standards, which is good for everyone."
Related Internet Links
The BBC is not responsible for the content of external sites.