Sinn Féin picks Rosie McCorley as new West Belfast MLA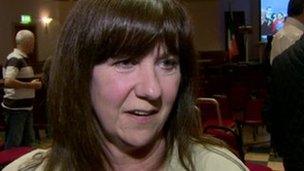 Sinn Féin has selected Rosie McCorley to replace Paul Maskey as an assembly member for West Belfast.
Mr Maskey is one of five Sinn Féin MPs who are resigning from their assembly seats as the party seeks to end "double-jobbing".
Ms McCorley said she was proud to have been selected by the party.
"It's an honour and I'll be bringing all my abilities and experience to the role, and hopefully I can do as good a job as Paul Maskey did," she said.
Sinn Fein President Gerry Adams said Ms McCorley would be "an able, effective and hard working replacement for Paul Maskey".
"The decision by Sinn Féin to end double jobbing wasn't just about resolving that particular issue," he said.
"It is also evidence of the growth of talent and professionalism within the party."
Ms McCorley is a former prisoner and was the first republican woman to be released under the terms of the Good Friday Agreement.
She was jailed in 1991 for the attempted murder of an army officer and possession of explosives.
She has a a first-class honours degree in social science with the Open University, a diploma in Irish with the University of Ulster and a post-graduate diploma in Aistriuchan sa Nua Gaeilge with Queen's University Belfast.
Ms McCorley has worked as a political advisor to Sinn Féin and serves on the board of the Community Relations Council.
A prominent Irish language activist in Belfast, she also serves on the West Belfast District Policing Partnership as an independent member.