Belfast Health Trust X-rays helpline opens for third day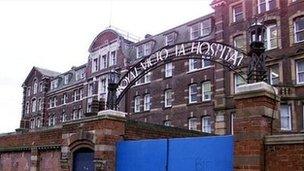 A helpline, set up after it emerged that about 17,000 X-rays at the Royal Victoria Hospital were not properly assessed, is remaining open for a third day.
Over the weekend staff took calls from 82 people who were concerned they may have been given a wrong diagnosis.
The BBC revealed on Friday that more than 17,000 X-rays were not properly checked, some dating back to 2007.
It only affects people who attended the Royal Victoria Hospital.
The cases involved mainly people who would have been treated for stomach or chest problems.
The oversight, which emerged after an audit was carried out in May this year, does not include children.
A radiologist was on hand to advise callers if it was necessary for them to return to hospital for another X-ray or to be seen by a doctor.
The incident is being linked to a computer system failure and is being treated as a serious adverse incident.
While the Belfast Health Trust accepts the severity of the problem, they say they have been reassured that so far no significant issues have emerged.
Medics from the private sector are being employed to assist the trust in getting through the backlog.
The helpline number is 028 90630500.
Related Internet Links
The BBC is not responsible for the content of external sites.