Young family homeless after arson attack in Randalstown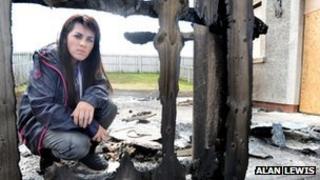 A mother and her three children aged four, five and six, have spent the night in emergency accommodation after an arson attack on their home.
An oil tank was set alight at the rear of Donna McBrien's home at Mill View in Randalstown at about 04:00 BST on Sunday and flames spread to the house.
She brought her children to safety but said they had been left "shaken up" and all their toys had been destroyed.
Ms McBrien said she would now have to find a temporary home for her family.
She described how she was woken by a noise at her window during the early hours of Sunday and got up to find that her garden was on fire.
"The whole fence was on fire, the whole back door, right around the wee bathroom, right around the whole side of the house", she told BBC Radio Ulster.
She said she got her children out of bed and brought them down the stairs and out of the house before going back in to get her mobile phone to call the emergency services.
'Attempted murder'
However, she said that by that stage the police had already arrived, and told her they had seen the smoke from Antrim.
She said that firefighters told her a pipe from her oil tank had been cut and set alight and three wheeled bins were also set on fire at the rear of her house.
She told the Good Morning Ulster programme that she had no idea why her property was targeted because she gets on "with everybody".
"I don't know who did it but the police said it was like attempted murder," she said.
Ms McBrien told Good Morning Ulster she would now have to contact the Housing Executive to arrange temporary accommodation as she cannot bring her children back to the house until it is habitable again.
"All the wee kids' toys, their tractors, the bikes they'd got - they've got nothing now because they're all burnt away," she said.
A PSNI spokeswoman said the investigation was at a very early stage and all lines of inquiry were being followed.