Graffiti challenge to McGuinness decision to meet the Queen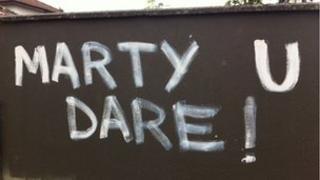 Graffiti critical of plans for the deputy first minister, Sinn Fein's Martin McGuinness, to meet and shake hands with the Queen has appeared in the Bogside area of Londonderry.
One reads 'Marty U Dare' and another 'Sinn Fein sellouts'.
Speaking before an event to rebrand the city's port Mr McGuinness said: "In moving forward difficult decisions have to be taken.
"I have been taking difficult decisions alll my life.
"I continue, and will continue, to take difficult decisons.
"I hope the vast bulk of the people who are well disposed to the peace process will support those decisions as we move forward to better days."
SDLP MP for Foyle, Mark Durkan, supported Mr McGuiness's decison to meet the Queen.
"It's a good and proper decision," he said.
"He's showing that in the mature, settled arrangements that we have now, we can respect each other, we can respect difference and we can respect each other's values and traditions."
"If Sinn Fein have made any mistake in this it is that they were feeding the very negative rhetoric about the Briish crown even last year. Maybe it is that rhetoric that has caused difficulties in certain quarters."
At the port, the deputy first minister was joined by children from schools on both sides of the border to launch balloons to mark the rebranding of the port and harbour.
It was welcomed by Mr McGuinness as an important step in the regeneration of a city "that has been in the doldrums for far too long."