Fancy a cuppa? Merkel flag lads have tea with German ambassador to Ireland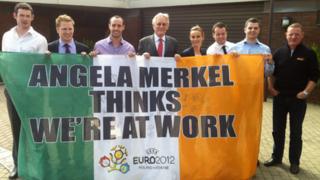 Just when the Merkel Lads thought it was all over - in steps the German ambassador to Ireland.
Eoin Cantwell and his mates grabbed headlines around the world when they were pictured at Dublin airport with a flag emblazoned with the words "Angela Merkel thinks we're at work".
They were on their way to Prague for the Euro 2012 championships.
The story became an internet sensation - but it has not stopped there.
The boys behind the banner - now known as the Merkel Lads - were invited to meet Dr Eckhard Lubkemeier at his official residence in Dublin on Monday.
And the German ambassador asked them to stay for tea.
Eoin said Mr Lubkemeier had been so impressed with their sense of humour, he had wanted to meet them.
"He was a lovely man. He thought the flag was very funny and as a gesture he wanted to meet us and see the flag. He commended us on our humour," he said.
Eoin and the other Merkel Lads - Paul Davis, Gerry Nolan, Richie Tuohy, Richie Leahy, Conroy O'Dwyer and Eoin O'Brien - have been shocked at how the story has developed.
'Surreal'
Due to work commitments, only five of the boys - all graduates from college in Limerick - met Dr Lubkemeier on Monday.
Eoin said Dr Lubkemeier had been impressed by the spirit of the Republic of Ireland fans despite their team being thrashed 4-0 by Spain and eliminated from Euro 2012.
"He (the ambassador) enjoyed the singing after the Spain match, he said it showed the Irish had good humour," said Eoin.
"We really have been taken aback by all of this. We never expected to be at the German Embassy and joining the ambassador and his wife for tea. It is all quite surreal."
Dr Lubkemeier told BBC Radio Ulster's Evening Extra programme that he had sent the picture to Berlin.
"It was such a great joke, such a perfect example of Irish humour," he said.
Referring to the Irish economy, he added: "We put a lot of hope in the Irish people... they are determined to succeed, and they will recover."
The flag has now been auctioned off to raise money for the Children's Medical and Research Foundation in Dublin and the Oscar Appeal, set up to help provide treatment for Oscar Knox, a Belfast boy with a rare disease.
Iris R&D and Glendun Group won with a joint bid of 15,800 euros. It is understood there are now plans for members of the Spanish team to sign the flag.