Flooding affects new Fermanagh hospital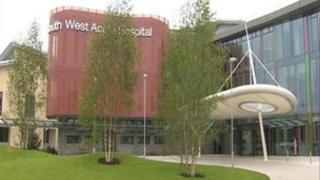 Part of Northern Ireland's new state-of-the-art hospital in County Fermanagh has been affected by flooding.
An area of the outpatients department at the £276m South West Acute Hospital in Enniskillen suffered minor damage and chiropody clinics have had to be moved.
Deputy Chief Executive of the Western Trust Joe Lusby said: "In opening a hospital of this size it is not unusual for minor issues to occur."
The hospital opened last Thursday.
Mr Lusby said patient services were not affected.
"The trust was prepared for these and has dealt with minor flooding in an area of outpatients where chiropody clinics are delivered," he said.
"Alternative accommodation is in place."
The hospital is the first facility of its kind in Northern Ireland to have single ensuite rooms for every patient and is about three times bigger than the old Erne hospital it replaces.
Seventy-eight patients were transferred to the hospital from the old Erne Hospital.