Ulster Bank branches to stay open late for rest of week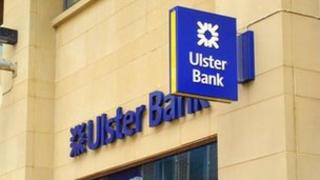 About 30 Ulster Bank branches in NI will remain open late for the rest of the week as the bank continues to deal with a backlog of transactions following a computer failure.
The bank has said it may be the end of the week before normal service resumes.
About 27,000 social security agency customers have been affected by the problems, the assembly has been told.
Social Development Minister Nelson McCausland was responding to a question tabled by Sinn Fein's Phil Flanagan.
He asked how benefit claimants were affected by the computer software failure at the bank.
It has meant thousands of customers have been unable to access accounts, and wages have not been paid in.
The minister said "everyone realised the seriousness of the situation" and explained that the technical problems meant that accounts had not been credited with benefits.
He explained that claimants would be able to collect funds up to a limit from the bank with proof of identification.
Mr Flanagan expressed "dismay that this crisis continues into a second week".
He said it was "shocking" that benefit claimants had not been advised sooner they could obtain money directly from banks.
The DUP's Gregory Campbell said it was important that the issue was resolved as soon as possible as many salaries were due to be paid before the end of the week.
'Unprecedented backlog'
The bank said the scale of the backlog was "unprecedented" and warned it could be a week before operations return to normal.
Meanwhile, the Northern Bank said a technical fault that caused problems for some customers has been fixed. It said it was working to re-establish all of its systems as quickly as possible.
At the weekend, Ulster Bank branches opened to deal with problems created by the failure.
Chris Sullivan, chief executive of corporate banking at RBS, which owns Ulster Bank, said every effort was being made to ensure customers were not disadvantaged.
"We are putting all of our efforts into ensuring that nobody is out of pocket in this situation. We have a team working on all eventualities," he said.
"We are really sorry this has occurred. This is the last thing any bank would want. We are taking this really seriously."
The chief executive of the Citizens Advice Bureaux (CAB), Derek Alcorn, said he has spoken to the Ulster Bank and was assured that if customers brought proof of identity into the bank, they would receive their benefits or salary.
"That, along with longer opening hours, may well mitigate this for some people," Mr Alcorn said.
"We are available to people to help mediate with the bank and act on their behalf. There will be people who, if they can't get benefit, will be badly stuck.
"For an organisation the size of RBS there should have been an automatic business continuity plan or back-up."
Mr Alcorn said the CAB was available to help anyone having difficulties because of the bank failure.
Ulster Bank said extra staff had been drafted in to answer queries and resolve any financial worries customers may have had.
The bank has apologised again to customers affected.
It said thousands of employees were working around the clock to clear the backlog.
Customers can find answers to questions linked to the technical backlog, as well as details of the branches offering extended opening hours on the Ulster Bank website .