Northern Ireland Assembly to discuss parking fines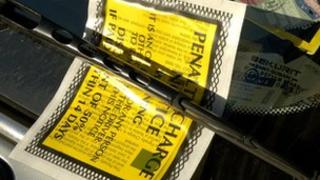 Assembly members are to discuss the proposal by the Regional Development committee to annul the proposed hike in car parking fines.
The plan recommended increasing parking fines from £60 to £90.
The regional development minister last week failed to persuade his committee not to use a 'prayer of annulment' which could see the plan overturned.
If MLAs vote against Danny Kennedy on Tuesday, the plan to increase parking fines will not go ahead.
The minister said other new measures he wants to introduce include electronic payment for parking.
The Northern Ireland Independent Retail Trade Association said the planned increase in parking fines would discourage shoppers from visiting town centres.
They are calling for proper parking enforcement with fair fines.