Queen Elizabeth in Northern Ireland for two-day visit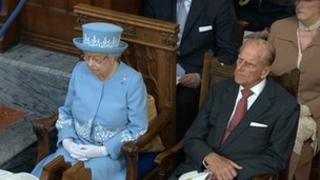 The Queen has attended a service of thanksgiving in Northern Ireland during a two-day visit as part of her Diamond Jubilee tour.
Thousands of people lined the streets to welcome the Queen and Prince Philip to Enniskillen, County Fermanagh on Tuesday.
They attended a service to mark the Queen's 60-year reign.
The royal flight was delayed for about an hour due to bad weather.
The Queen's itinerary will also include a meeting with former IRA leader and NI's Deputy First Minister Martin McGuinness.
NI Secretary Owen Paterson, who is accompanying Her Majesty during her trip, previously said her Stormont visit would have been "unthinkable" years ago.
The service of thanksgiving at St Macartin's Cathedral in Enniskillen was attended by more than 700 people including senior Protestant and Catholic clergy.
The Queen is wearing a Wedgwood blue crepe outfit by royal designer Angela Kelly, complemented by a shamrock diamond brooch.
The lesson has been read by First Minister Peter Robinson.
The Prayers of Intercession have been led by Reverend Ken Lindsay, President of the Methodist Church in Ireland, Catholic Primate of Ireland Sean Brady and the Right Reverend Dr Roy Patton Moderator of the General Assembly of the Presbyterian Church in Ireland.
The sermon was delivered by the Most Reverend Alan Harper OBE, Archbishop of Armagh, who went on to pronounce The Blessing.
The Right Reverend John McDowell, led the Diamond Jubilee Prayer, which had been written at the Queen's direction by the Chapter of St. Paul's Cathedral for Her Majesty's Jubilee.
Enniskillen was the scene of one of the worst atrocities of the Troubles when an IRA bomb killed 11 people on Remembrance Sunday in 1987.
Twenty-five years on, the Queen will meet Sinn Fein's Mr McGuinness on day two of her visit, at an arts event in Belfast.
Ireland's head of state President Michael D Higgins and Stormont First Minister Peter Robinson will also be there.
In his first interview since the meeting with the Queen was announced, Mr McGuinness described it as "taking a risk for peace".
Visits by the Queen to Northern Ireland are normally kept secret until arrival.
This one has been officially announced in advance - a sign of the improved security situation - however, some protests are expected.
The two-day visit is the Queen's 20th trip to Northern Ireland.
Some protests by dissident republicans have been expected, but an anti-royal demonstration in Belfast at the weekend only attracted about 300 people.
The Queen's ground-breaking four-day visit to the Irish Republic last year cemented a new era in British-Irish relations.
In spite of speculation that the handshake between Mr McGuinness and the Queen would be off-camera, Mr McGuinness said he had no objection to the encounter being photographed.
There is an extended Talkback on Radio Ulster from 10:45 BST until 13:30 BST.