PPS drops abuse case against Father John McManus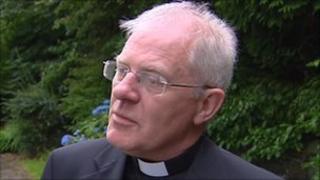 The Public Prosecution Service (PPS) has decided that a senior priest in the Diocese of Down and Connor has no case to answer following abuse allegations.
Father John McManus from Portaferry has always denied any wrong-doing but stepped aside during the investigation.
The police conducted an inquiry after a complaint was made to the Down and Connor child safeguarding office more than a year and a half ago.
The PPS has now directed that no prosecution will be brought.
When contacted by the BBC, Fr McManus said he had "nothing to say".
When the Catholic Church was contacted, a spokesman said "the normal review under the Church's safeguarding policy and procedures and the Church's own internal process will now resume, and a further statement will be made in due course".
The priest was a former press spokesperson for the diocese and a member of its committee that oversees the safeguarding of children.
He was based in the parish of Ballygalget on the Ards peninsula, and stepped down from his duties last spring, while the abuse claims were investigated.
The allegations were first reported to Church authorities on 27 January 2011.
At the time, Father McManus was chancellor of the diocese of Down and Connor, and effectively ran the administration of the diocese.
The Church's safeguarding team contacted the police and social services the following day and the Bishop of Bishop of Down and Connor imposed restrictions on Fr McManus' ministry and role in the diocese.
Fr McManus then requested leave both from his ministry as a priest and his position as chancellor for the duration of the investigation.
The priest was once in charge of the seminary based at St Malachy's College in Belfast and was also the principal of Ballygalget Primary School.