Michaela McAreavey murder accused denies lying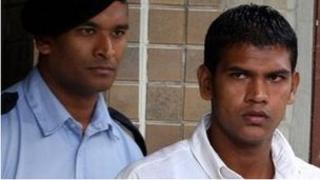 One of the men charged with murdering Michaela McAreavey has been accused of lying to the court and of making up his story.
Avinash Treebhoowoon, 32, a former room cleaner at Legends Hotel in Mauritius, denied the accusations.
"I'm not a liar, I am innocent," he told the Supreme Court in Mauritius.
He faced repeated questions from prosecution lawyers about his schedule on 10 January 2011, the day the 27-year-old teacher was murdered.
The prosecution raised a number of differences between times he had written on his worksheets and those recorded by electronic locks on hotel room doors he had opened.
They highlighted discrepancies between his statements to police and what he had told the court on Tuesday and Wednesday.
The state prosecutor accused him of making up his story and covering up for his co-defendant, 42-year-old Sandip Moneea, who also denies murder.
"You will drown in your own lies," he told him.
Torture claim
Earlier on Wednesday, the longest day of the trial so far, Mr Treebhoowoon broke down for a second time while giving evidence.
Mr Treebhoowoon repeated his earlier claims that the police had tortured him.
He told the court that detectives had threatened to send his wife to Ireland as a replacement for the murdered Mrs McAreavey.
He also claimed that police threatened to torture him with heated handcuffs and electrocution.
The judge ordered a break of 10 minutes and asked that water be provided for the former hotel cleaner who was in tears as he told the jury about claims that the police had threatened his mother, father and his wife.
Mr Treebhoowoon alleges that one of the most senior detectives investigating the murder said that they would detain his wife, remove her passport "and send her to Ireland because John doesn't have a wife anymore and he will need a wife".
The jury was later told to disregard this particular part of the evidence.
The trial continues.