Bird strike and airport power cut causes six-hour delay for Easyjet flight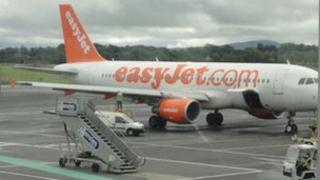 Easyjet passengers on a flight from Belfast to London faced a delay of almost six hours due to a bird strike and then an airport power cut.
The Easyjet flight to Luton airport was due to depart at 07:00 BST on Wednesday but did not take off until 13:50 BST.
The airline said the plane had been hit by a bird strike on its way to Belfast and had to undergo a safety inspection.
The certification needed to clear the flight for take off was then delayed because of computer access problems.
'Shambles'
Passengers said they had been on board the aircraft for around two hours when some passengers were offered the option to leave the aircraft and catch an alternative flight.
Shortly after that, all of the remaining passengers were asked to disembark and return to the terminal.
After engineers had inspected the plane, passengers were allowed to re-board at around 12:30 BST.
However, they had to wait another hour and a half for the certification to reach the pilot.
One passenger wrote on his Twitter account that the pilot had described the situation as "a complete shambles" when addressing his customers.
The flight landed in Luton just before 15:00 BST, but too late for some who had already missed their connecting flights and trains.
EasyJet spokesman Andrew McConnell, said: "The aircraft operating the inbound flight experienced a bird strike during landing and needed to undergo a mandatory safety inspection by our engineers.
"However, due to a power supply failure at Belfast International Airport this inspection took longer than we had hoped."
Apology
Mr McConnell said that passengers were given vouchers for food while they waited in the terminal and some were offered seats on alternative Easyjet routes to London.
"Although the cause of the delay was outside of EasyJet's control we would like to apologise for any inconvenience caused, he added.
Earlier, a spokesperson for Belfast International Airport said the power cut had caused slight delays at security gates as some checks had to be carried out manually.
At the time they said they believed the six-hour delay to the Easyjet flight was unconnected to the loss of power.