Queen attends Jubilee party in grounds of Stormont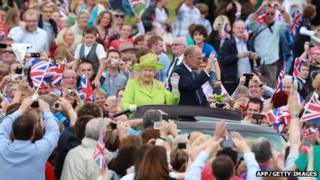 The Queen has attended a huge party at Stormont to mark her Diamond Jubilee.
About 20,000 gathered in the grounds of Northern Ireland's seat of government to celebrate the monarch's 60-year reign.
The Queen and Prince Philip were driven through the estate in an open-topped vehicle, on the second day of her Jubilee tour in Northern Ireland.
The royal couple have now left Northern Ireland.
At Stormont, thousands cheered as the motorcade passed by, marking the climax of her visit.
Earlier, the monarch and former IRA commander Martin McGuinness shook hands for the first time.
It happened at an event organised by a charity, Co-operation Ireland, which works to bring communities together.
The Queen and Mr McGuinness, who is now Northern Ireland's deputy first minister, shook hands at a private meeting and later in public.
Reconciliation
The private meeting, in a room at the theatre, involved a group of seven people, including Irish President Michael D Higgins and Northern Ireland's First Minister Peter Robinson.
It is understood Mr McGuinness welcomed both the Queen and the Irish president in Irish.
The deputy first minister is said to have commented on the Queen's visit to Dublin last year, and in particular her comments regarding all the victims of the Troubles.
Later, as the Queen left to continue her Diamond Jubilee tour of Northern Ireland, the pair shook hands again, this time in public.
As they shook hands for a second time, Mr McGuinness wished the Queen well in Irish, which translates: "Goodbye and God bless."
The main event had been billed as one to celebrate the role of the arts in contributing to reconciliation and peace-building and not as part of the Jubilee celebrations.
During the event, the Queen was presented with a gift of Belleek pottery to mark her Diamond Jubilee.