Solicitor says Maghaberry Prison 'awash with drugs'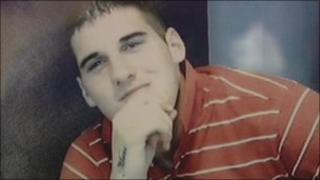 A solicitor has told the BBC he has pleaded with judges not to send people to Maghaberry prison because it is so awash with illegal drugs that they fear becoming addicts while behind bars.
He was responding to a report on the death of 21-year-old Aaron Hogg, who hanged himself in his cell in May last year after taking a cocktail of drugs.
The Prisoner Ombudsman, Pauline McCabe, has also urged the prison authorities to do more to tackle the problem. Her report, published on Thursday, lists a litany of failings.
She says Mr Hogg may not have taken his own life if there had been tighter restrictions on drugs within the prison.
Anti-psychotic medication
Mr Hogg hanged himself in his cell in Maghaberry prison in May last year. He was the third prisoner to die in custody in a matter of weeks.
A post mortem examination revealed that he had taken a cocktail of six illegal drugs and had been smoking cannabis shortly before his death.
By the time of his death he had been given a month's supply of anti-psychotic medication.
He had a total of 113 prescription tablets, but on the day he died just one tablet was left. He took some of them and swapped the others for a range of six illegal substances.
An independent expert employed by the ombudsman, consultant forensic psychiatrist Dr Keith Rix, said it was "probable that drug effects made a material contribution to Mr Hogg's state of mind on the night of his death".
The ombudsman's report reveals that the 21-year-old had a history of drug and alcohol abuse, had previously overdosed on prescription medication, and had significant behavioural and psychiatric problems.
After trying to hang himself at home in November 2007, a psychiatrist noted a history of impulsiveness, explosive anger and recurrent thoughts of suicide.
The conclusion was that Mr Hogg suffered from a psychopathic disorder.
In October 2008, he was admitted to hospital for a week for psychiatric treatment. His records also noted that he used illicit drugs such as cannabis and ecstasy.
Prison officers and health care staff in Maghaberry should have been aware of this medical record when Mr Hogg was sent to prison in September 2010 to await trial on a charge of attempted murder.
'Particularly vulnerable'
He had been in prison four times previously for minor offences, including non-payment of fines.
On those occasions, information was recorded on his prison records relating to his abuse of alcohol and drugs, his admission to hospital for psychiatric treatment and the fact that he had taken an overdose.
There were other warning signs. Just five days before he died, a solicitor for Mr Hogg's family wrote to the prison authorities stating that he was "particularly vulnerable" and struggling to cope with the prison environment.
The following day, on 18 May, Aaron Hogg himself wrote a letter to the prison authorities, with assistance from a member of staff.
In it, the prisoner said: "I need to talk to somebody about my problems - both personal issues and about my difficult time in prison."
There was no response to either letter before he died.
The ombudsman's report also refers to recordings of phone calls made by Aaron Hogg shortly before his death.
In one, he can be heard claiming it was easier to get drugs inside Maghaberry than on the streets outside.
Issues of concern
Pauline McCabe says the recordings clearly demonstrate that Mr Hogg's speech was slurred as a result of the effect of drugs, but there was "no evidence that staff, at any time, took any action in response".
"There were a lot of warning signs and it is the case that there was clear evidence that they were not fully acted upon," she told the BBC.
"Had more attention been paid to all of those things, it is undoubtedly the case that the likelihood that he was deemed to be at risk of self-harm might have been more effectively identified and dealt with."
The report lists 24 issues of concern. They include the fact that prison health care staff did not check Mr Hogg's medical records at the time he was sent to Maghaberry for the last time.
It notes that he was able to stockpile his prescribed medication and had access to non-prescribed illegal substances.
A solicitor for Mr Hogg's family said they believe his death could have been avoided.
"The family are distraught, absolutely devastated," says Matt Higgins.
"They are so let down by the prison service and by the health trust. The family believe that if his drugs had been managed properly and he hadn't been taking drugs at that time he would not have committed suicide, and this is a death that was totally avoidable."
'Awash with drugs'
This is the second report by the ombudsman in two weeks which concludes that the availability of illicit drugs and the management of prescription medications played a role in the deaths.
Describing Maghaberry as "awash with drugs", Mr Higgins claims the problem is so bad that solicitors regularly ask judges not to send people with a history of drug abuse to prison because of the availability of illicit drugs on the inside.
"The prison service and health trust appear to suggest that they cannot stop drugs coming into prison, that they just have to accept it, and that's just not good enough," he said.
"I recently had a client who had become addicted to heroin while in prison previously. He was no longer taking drugs but was concerned that he would become addicted again if sent back to prison.
"I appealed to the judge not to send him to jail on remand because of the risk that he would go back on heroin. That is wrong, that should not happen.
"I've made bail applications of that nature to the courts on a number of occasions. The courts are well aware of the level of the problem."
The ombudsman recently said a serious drugs problem existed within Northern Ireland's prisons and has called for a tougher approach to reduce supply, but also says more has to be done to reduce demand by improving the regime for prisoners.
"There has to be a purposeful regime," she said.
"If you have people who are lonely or bored or mentally ill or addicted and they spend long periods of time in their cell, as sure as night follows day, they will go and look for drugs more than they have in the past," she said.
"This must by a priority for the prison service. I really do believe that all of the time and effort that has been invested in the prison reform programme could be seriously undermined if this problem is not addressed."