Michaela McAreavey trial - accused calls witness a liar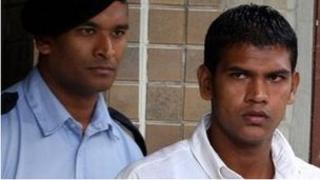 One of the two men charged with murdering Michaela McAreavey has accused a hotel colleague of lying about what he saw on the day she died.
Avinash Treebhoowoon, 32, was giving evidence in his own defence for the third day at the trial in Mauritius.
He was questioned about claims made by his colleague Raj Theekoy who said he saw both accused leaving the McAreaveys room around the time of the murder.
Mrs McAreavey, from County Tyrone, was murdered on the island in January 2011.
The 27-year-old teacher was found dead in her suite at the Legends Hotel during her honeymoon.
Mr Treebhoowoon, a former cleaner at the hotel, and his co-accused, Sandip Moneea, deny her murder.
'Schwarzenegger'
Under intense questioning during his third day in the witness box, Mr Treebhoowoon denied seeing a purse belonging to the McAreaveys which the prosecution claims was on a dressing room in the couple's suite.
When he was asked about Mr Theekoy's claim to have seen both him and his co-accused leaving the McAreaveys' hotel room on 10 January 2011 - around the time she was killed - Mr Treebhoowoon responded by calling him a liar.
He was also questioned about his claims that police officers threatened his former lawyer, Ravi Rutnah, telling him to sit in a corner and keep quiet.
But the judge said: "You remember Mr Rutna, he was in this court when he told everyone he would be back like Arnold Schwarzenegger, do you really think, he'd stay quiet?"
The accused had no answer. The trial continues.