Cloud computing strategy 'could create 16,000 jobs' in NI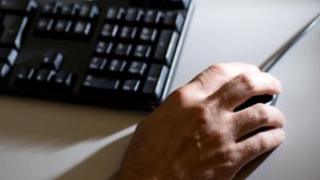 Northern Ireland could create an extra 16,000 jobs if it adopted a new technology strategy based on cloud computing, a new report has claimed.
Cloud computing is a method of storing data and applications on the internet as opposed to traditional methods of saving material on computer hardware.
Thursday's report was prepared by Oxford Economics and professional services firm Goldblatt McGuigan.
It claimed a cloud computing strategy could boost the NI economy by £1.2bn.
The report, issued by Whisple Cloud Services, was released during a business conference hosted in the new Titanic building in east Belfast.
Whisple Cloud Services is an organisation based in Northern Ireland which is comprised of local companies and is managed by their leading IT executives.
Thursday's conference, titled "Is NI speaking Cloud and Clear?", was attended by over 200 delegates and was addressed by senior staff from a number of cloud computing firms.
Opportunities
They included keynote speaker, Sarah Friar, vice president of strategy and finance of Salesforce.com.
The company opened an office in Dublin 12 years ago.
Last year, Salesforce.com achieved £2bn in annual revenue, the first cloud computing firm to do so.
On Thursday it annouced it was creating 100 new jobs in sales, marketing, IT and customer support functions at its base in the Republic of Ireland.
In her speech in Belfast, Ms Friar explained the rise of cloud computing and said the opportunities it offered to Northern Ireland were immense.
Dermot Walsh, chief executive of Whisple Cloud Services said Northern Ireland had made "significant investment in its underlying communications infrastructure, creating one of the world's best digital platforms, which in a global cloud computing market is an invaluable asset".
"Not only is our talent second to no other region, but also the calibre of local IT companies and the research and development facilities in our universities, creates a fantastic environment for economic growth and job creation," Mr Walsh added.