Ulster Bank customers still having problems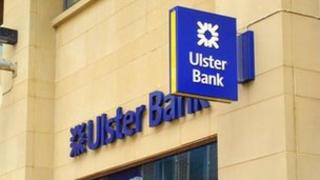 The Ulster Bank's chief executive Jim Brown says the bank's 100,000 customers on the island of Ireland are still experiencing problems with their accounts.
Customers are still having problems accessing money that hasn't registered in their accounts.
It has been nine days since a computer problem created a crisis at the bank.
The problem has left a backlog of uncompleted transactions at the Ulster.
The Irish Central Bank has described the ongoing delays as "unacceptable".
It said its deputy governor Matthew Elderfield met the chief executive of Ulster's parent company RBS on Thursday "to emphasise to him the importance of addressing the continuing delays in resolving the technical issues which are impacting customers".
Mr Brown said the bank still hopes to have normal service resumed next week but was unable to give any guarantees.
"We do need to work through the backlog of transactions - the issue is complex and our focus is on that," he said.
"Right now, we're aiming to get the issues resolved by the beginning of next week."
A third of the Ulster Bank's 90 branches in Northern Ireland will open later for the rest of the week.
Twenty six branches will have extended Saturday opening from 10:00 to 15:00 BST, and 10 branches will open on Sunday from 10:00 to 13:00 BST.
The backlog was caused by a software problem that disrupted payments into and out of thousands of customer accounts.