Packing a punch: Belfast women take on new Olympic sport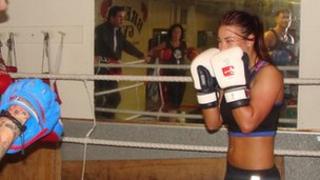 Bloodied noses, blackened eyes, cracked ribs - boxing can be a rough sport. But that hasn't stopped growing numbers of women stepping into the ring.
This summer, for the first time female boxers will be allowed to compete in the Olympic games, and that's encouraged women across Northern Ireland to slip on boxing gloves and try it out for themselves.
Laura McClean, a hospital administrator, is one of them.
The petite 24-year-old said people are shocked when she tells them she's training for a fight.
She took up the sport after being put in what she described as "very vulnerable personal situation".
"I never want to be vulnerable again and so I wanted to learn a defence sport," she said.
"It's not just a physical strength that you gain from boxing - mentally it takes a lot of courage to get in the ring and fight someone else and that builds up your mental strength. You feel very powerful afterwards."
'The ultimate examination'
It's a muggy evening outside, but inside Breen's gym in Belfast it's stifling.
The small room has just enough space for some punch bags and a boxing ring.
Three heaters have been turned up high to recreate the warmth given off by lights at a fight, and sweat pours off the boxers as they train.
Pummelling the punch bags with ferocity are a number of muscular young men, as you'd expect.
But in amongst the bags, the sweat and the heaters, are a group of women, packing punches with no less intensity.
Most are preparing for their first live fight on Saturday.
Of the 14 boxers taking part, 10 are women.
Promoter Chris Hughes is managing the event. His company, Boxing Challenge, organises white collar boxing which allows people to fight as non-registered amateurs in a competitive environment.
He's been involved in boxing in Northern Ireland for 15 years and said there's been a huge increase in the number of women training to box in the past 18 months.
"Women are really enjoying this" he said. "They are not getting hurt or damaged or disfigured."
Nicole Toan, 23, a personal trainer, has been boxing for six weeks.
She acknowledges that it is a rough sport but points out that "a lot of it is actually about defending yourself. It's amazing how it can make you feel secure. You feel safe when you go on a night out."
Chris said training for a fight is a liberating experience.
"Facing another person in the boxing ring in front of other people is the ultimate examination. They are leaving the process feeling so much better than at the start of it," he said.
Nicole agreed: "When you get in the ring it's something you have never felt before. There's an adrenaline rush and you come out wanting to go back in again."
Stepping into the ring in the first place is a daunting prospect, but Laura and Nicole think the introduction of the sport into the Olympics has changed women's perceptions.
'The men love it'
Last month Katie Taylor from County Wicklow made history by becoming the first Irish female boxer to qualify for the Olympics.
Taylor is the current world women's boxing champion, and Nicole says she's been an inspiration.
"To watch her and where she's got to is amazing. She's setting the standard for girls like ourselves who are just starting out."
Another role model is Jane Couch MBE. She became the the first officially licensed British female boxer in 1998 when she won a sexual discrimination claim against the British Boxing Board of Control.
She told BBC News Online that her case "changed history" and she's "very proud" when she sees "all sorts of women now accepted into gyms".
"I was the only woman in the gym when I started out 22 years ago," she said.
"Women's boxing was always popular in America and in Europe. But it took the UK longer to catch up - and perhaps Northern Ireland, even longer."
Laura observes that there's still some way to go here.
"In some gyms, girls aren't really welcome - you can go to boxing nights but as a woman you're put in the keep fit part, rather than the actual boxing," she said.
At Breen's gym, however, the men and woman are training together.
"The men love it," Chris said. "Women and men in the same gym together creates a brilliant dynamic it's really good fun.
"Any boxer will always respect another boxer."
Nicole agreed. "In this gym we've been treated equally. In fact, the women probably get the upper hand sometimes."