Karen Hassan to leave teen soap Hollyoaks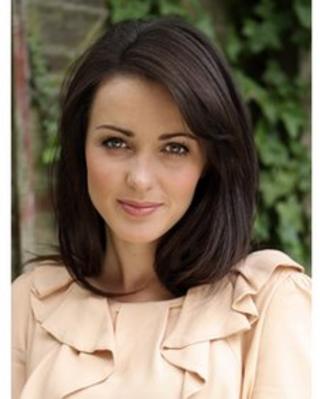 This weekend Hollyoaks viewers will be shocked when Lynsey Nolan played by Karen Hassan is brutally murdered in teen soap Hollyoaks.
The Belfast actress has been playing the popular role for the last two years.
Earlier this year Karen was shortlisted for the Best Actress Award at the British Soap Awards.
Her exit, which has been kept a secret, left fans stunned when it was previewed on E4 ahead of the broadcast.
After she is killed tonight, a "who killed Lynsey?" plot line will unfold.
'I'm really lucky'
Ms Hassan has previously taken part in Hollyoaks Later when it was filmed in Belfast in 2008 before being asked to join the main programme in 2010.
"The past two years have been fantastic, the Silas storyline was amazing. I'm still haunted by it and people mention it everywhere I go."
The Silas the serial killer story ran for almost a year giving Karen the opportunity to be a central character in the main plot line. Her performance during this role ensured she was short isted for the Best Actress Award at the British Soap Awards.
"It was absolutely amazing to be nominated for such an important award, it just shows that Hollyoaks can still pack a punch when it comes to the soaps" the actress said.
Before moving to Liverpool to take up her job in Hollyoaks Karen had been studying drama at Queen's University Belfast.
"I'm so glad I went to university here. I never dreamed of being an actor. It gave me so much confidence and really helped me out.
"I was getting work after university, I was in Over the Bridge at the Waterfront Hall actually when I got the Hollyoaks job. I've been in such a privileged position over the last few years. I'm really lucky."
Hollyoaks has recently confirmed that it will be filming some episodes in Londonderry for the City of Culture celebrations.
The programme features a number of Northern Irish actors including Bronagh Waugh, Gerald McCarthy and Emmett Scanlan.
"I think it's great that the show is coming to Derry, it's a great city. Unfortunately my character is dead so I won't be able to go but it'll be great and it will really raise the profile of the city among younger audiences."
On filming her final scenes Karen said: "I'm so sad about it, I'm gutted to be leaving but it was great fun doing those final scenes, it was so intense. My mum can't even watch the final episode, she was in tears."
Fans of Karen need not be too worried about seeing her again as the actress will be making appearances on Casualty and BBC2 drama The Fall later in the year.
Karen's final episode will be broadcast on Channel 4 on Friday 29th June 2012 at 1830 BST