Van Morrison privacy case settled, Belfast court told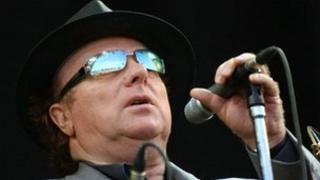 Resolution has been reached in a legal action brought by Van Morrison over the publication of details allegedly linked to his private life, a court has heard.
The High Court was told undertakings by a defendant newspaper group have resulted in an end to the proceedings.
The singer had sought an injunction over journals kept by American businesswoman Gigi Lee.
His action led to Associated Newspapers giving a number of guarantees pending resolution of the proceedings.
One centred on the notebooks, while a second involved other undisclosed matters.
A third undertaking was about the star's private life in general. That condition was removed last month in a variation to the terms originally agreed.
The action was due to continue at the High Court in Belfast.
But Mr Justice Stephens was told on Friday that the case has been resolved.
Brett Lockhart QC, for Associated Newspapers, asked the judge to note the undertakings given and that proceedings were now ended.
No order for costs was made between the parties.
Ms Lee reportedly died of cancer in a Belfast hospice last year at the age of 44.
She had previously joined Mr Morrison in a separate case to seek court protection from media intrusion into their lives.
But in April last year an injunction against the now-defunct News of the World was lifted.
That ban was set aside on the condition that the paper did not breach any privacy laws, and gave an undertaking not to publish descriptions or photographs of others linked to the case.
In an affidavit at the time Mr Morrison set out how he regarded some parts of his life as areas to be kept away from scrutiny or comment.
He stated: "I have made considerable efforts to protect my private life and I have refused to be interviewed about it, to comment on it publicly or to authorise others to do so, save in very limited circumstances when a bare minimum of information is required to prevent or minimise harm from the repeated attempts of others to publish allegations about my private life."