Two arrests made at Irish Open in Portrush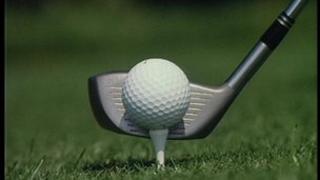 Two arrests were made at the Irish Open, PSNI Chief Superintendent Chris Noble has confirmed.
Both were in connection with alleged counterfeit tickets.
But over the six days of the event in Portrush, he said police had played a "low-key but significant role" in ensuring the safety of 130,000 people.
"The professional and personal approach of the police officers at the event was highly commended by those attending," he said.
The chief superintendent paid tribute to officers and staff who, he said, put in long demanding hours to ensure the success of the tournament.
"The success of the park-and-ride arrangements facilitated minimal traffic disruption. however, we do appreciate the support of local residents who have seen a huge increase in pedestrian traffic." he said.
"The effective flow of traffic was a key priority for the police service and, in partnership with DRD and Translink, there is now a tried and tested plan in place to manage large volumes of traffic for events of this type."