Matt Baggott backs PSNI 'on duty' position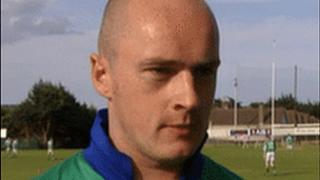 Chief Constable Matt Baggott supports the position that police officers travelling to and from work are on duty, the PSNI has said.
Police issued the statement after an officer who lost a leg in a bomb attack was unsuccessful in an initial bid to win industrial injury compensation.
Peadar Heffron, a Catholic, was badly injured in the dissident republican attack in Randalstown in January 2010.
His claim was turned down as the law rules he was not on duty at the time.
However, the case has been adjourned for further legal representations.
In a statement, the police said: "This is a private matter for Constable Heffron and it is not appropriate for us to comment at this time however the Chief Constable supports the position that travelling to and from work constitutes being on duty."
Mr Heffron had been on his way to work at Woodbourne police station in west Belfast and had driven about a mile from his home when the bomb exploded.
The 35-year-old, who had been a police officer for 10 years, now uses a wheelchair.
According to a report on Sunday in The Detail , Constable Heffron has never been able to return to work. He has been unsuccessful in his claim from the Industrial Injuries Tribunal.
The Detail said an appeal against the decision was made to the social security commissioner at a special hearing in Belfast on Thursday.
"There is an issue as to whether or not the compensation is payable in circumstances where the person concerned was on his way to work and therefore was technically on duty," a source told The Detail.
"The commissioner has indicated that he is very sympathetic to Peadar's situation, but the regulations do not appear to be as sympathetic to a young man who has sacrificed so much for his community."
The source told The Detail that Constable Heffron "may be compelled to retire from PSNI because of his horrific injuries".
"The question is will his entitlement to Industrial Injury Benefit carry on into his retirement?"
The BBC understands that the police were not aware of any opposition to compensation; it is their view that travel to and from work is duty.
Police Federation chairman Terry Spence told the BBC that that under Police regulations an injured officer - whether injured on his way to work or not - remained on full pay while he recovered.
However, an officer can apply to the Industrial Injuries Tribunal for compensation in the eventuality that he would not be able to recuperate enough to return to full time work.
Mr Spence said that had always been the case - that officers on their way to and from work or at home had been denied such benefit.
"The fact that he was driving to work at the time he was seriously injured in that bomb explosion clearly demonstrates that he was injured on duty and falls within the regulations of injury on duty as far as the PSNI is concerned," he told The Detail.
The Northern Ireland Policing Board said it supported the Chief Constable's position would discuss it with him at their monthly meeting on 5 July.
"Board members are concerned about this case and the implications it has for officers who are injured as a result of their employment," board chair Brian Rea said.
Mr Heffron is an Irish language specialist for the PSNI and was also the captain of its GAA team.