Queen's University Belfast announces £200m funding plan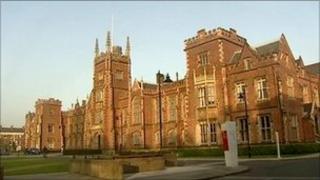 Queen's University Belfast has announced plans to invest £200m over the next four years.
Vice-Chancellor Professor Sir Peter Gregson said it would improve services and facilities for students.
He said the university wanted to "invest in world-class teachers and researchers, and extend our commitment to promoting graduate employability".
"The investment plan we are announcing will lead to more construction jobs, support local businesses and inject much needed money into the Northern Ireland economy," he added.
Employment and Learning Minister Stephen Farry said: "The Programme for Government will fund up to 700 additional higher education places here by 2015 and these will be taken up by Northern Ireland students.
"It is good news to hear that the increase in international students will bring with it a much-needed economic injection and that the announced capital investment will be a welcome boost for the local construction sector.
"This demonstrates that higher education is about much more than just teaching and research.
"The higher education sector is an important economic driver that we must continue to support, and I am pleased to see Queen's University leading the way."