More flooding possible in Northern Ireland, Met Office warns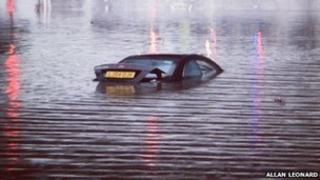 Regional Development Minister Danny Kennedy has said that, following a new Met Office weather warning, he is fearful of further flooding.
Mr Kennedy was responding to an urgent assembly question tabled by Alliance MLA Stewart Dickson.
The warning came after the Met Office confirmed that last month was the wettest June since records began.
Emergency services dealt with 700 flood-related call-outs in Belfast after a series of downpours last week.
At the height of the flooding, many roads were impassable and about 1,000 homes were left without power.
Mr Kennedy said he understood the frustration and distress people felt and said there was a need for effective co-ordination between agencies.
He said he was looking at increased investment for drainage in the worst affected areas.
Earlier on Monday, the Met Office issued a yellow warning saying that "although many places will escape the heaviest showers, there is a low risk that one or two could be heavy enough to lead to very localised surface water flooding".
Provisional Met Office figures for June showed that double the average amount of rain had fallen, making it the wettest June since records began in 1910.