Bride unable to access money in Ulster Bank account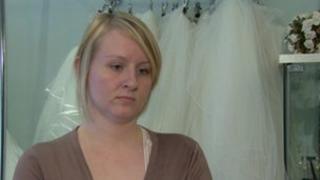 A bride-to-be has said she been left unable to pay for her wedding because Ulster Bank says the £5,000 she paid in has disappeared.
Sarah Copeland is due to get married in three weeks.
She had saved the money to pay for wedding costs but was left shocked when the bank initially said it had no record of the deposit.
Ms Copeland said Ulster Bank said the money is "somewhere in the system" but they are not sure where.
"I was first of all told that I did not have an account with them to which I was quite shocked as I've been with them since I was two and a half, so it's been 26 years," she said.
"They then said that they had found the account but there was no money in it.
"I argued with them that there was, because I had put £5,000 in on the Tuesday plus £280 cash on the Monday, plus my wages and everything else had been in, so I was quite shocked to learn that there was no money in the account.
"When I went online there was money in the account but the £5,000 wasn't there and when I telephoned them back after, they said the money wasn't there, they couldn't account for it and I didn't have a receipt as they didn't give me one."
Payments
She said the money was urgently needed to pay wedding suppliers.
"I have to pay my wedding rings on Monday, my photographer and florist have to be paid on Tuesday," she said.
"I have to pay them, I have already been given an extension on the rings for a week and I can't go back and ask for another one as they've been very understanding to date so I'm not quite sure what I'm going to do."
The bride-to-be has other items that still need to be bought.
"I still have to pay for my wedding cake, I have flower girl outfits to buy and shoes, all with three weeks to go," she said.
"I'm going to go down to the bank and my mum is going to try and sort it out and hopefully I will be able to withdraw the £5,000 in cash, if not, I guess we'll just have to wait and see where the money comes from, but I will be closing my account if it is not resolved immediately."
For the past two weeks, Ulster Bank customers have been experiencing problems accessing their accounts, including wages and benefits, following a technical fault.
Many customers have said they are very frustrated at the length of time it has taken the Ulster Bank to resolve the problems, which first emerged on 20 June.
It was caused by a software update, and initially affected millions of customers within the Royal Bank of Scotland (RBS) group, which includes Ulster Bank and Nat West.
The problems within the rest of the RBS Group have been resolved, but Ulster Bank is still working through a backlog of transactions.
Staff had to work through RBS and Nat West transactions first, before dealing with the Ulster Bank backlog "because there is a dependency between RBS and Nat West, and then Nat West and Ulster".