£250K overtime bill for Stormont security guards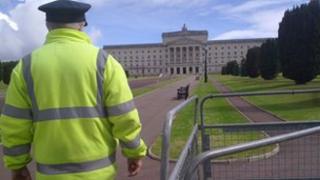 Taxpayers are set to pick up a bill which could exceed £250,000 after security guards at Stormont won a legal case over backdated overtime payments.
Their union, the Northern Ireland Public Service Alliance (NIPSA) took the case against Stormont's Department of Finance and Personnel (DFP).
NIPSA successfully argued that a change to the guards' working hours which denied them "guaranteed overtime" was a breach of their employment contract.
The DFP is "considering the decision".
Noel Griffin, the NIPSA official who represented the security staff, claimed the DFP had left them with "no alternative but to pursue court proceedings".
He and said the department now had questions to answer over the handling of the dispute.
"In June 2008, the DFP unilaterally changed their day shift hours to 09:00 to 17:00. We argued that it was a requirement to work 08:00 to 18:00, with 08:00 to 09:00 and 17:00 to 18:00 in the evening being contractual overtime," Mr Griffen explained.
Legal costs
He said that his union had tried to resolve the issue through internal industrial relations, and had held numerous meetings with management but the two sides could not reach agreement.
The NIPSA official said up to 26 current and former Stormont security staff would be in line for backdated payments for "10 hours per week, which at time-and-a-half is 15 hours per week overtime, for every week since 2008 right to the present day".
"Because it is contractual, it was also pensionable, so there are pension implications," he added.
Mr Griffin also said NIPSA's legal costs would have to be met.
He acknowledged the bill would have to be paid from the public purse, but said that NIPSA had "every right" to protect its members' terms and conditions.
"There was every opportunity for the department to resolve this before it went to court," he insisted.
A DFP spokeswoman said: "The department is currently considering the decision and has no comment to make."