INLA gang 'threatened to kill man' over £35,000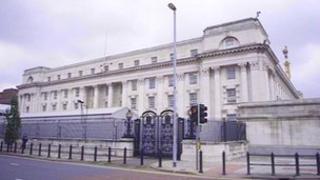 A man was allegedly warned he would be shot dead by the Irish National Liberation Army (INLA) unless he paid £35,000, Belfast High Court has heard.
Three men from Belfast face charges of blackmail, making threats to kill and membership of an illegal terror organisation over the alleged incident.
The accused are Damian Justin Morgan, of Vicinage Park; Michael Lawrence Smith, of Ardmonagh Gardens and Patrick McCrory, from Mountpottinger Road.
The men deny the charges against them.
Confronted
It was claimed in court that the threat was made after the suspects turned up at his holiday home in Omeath, County Louth, just across the Irish border.
The allegations against them are based on a statement from the alleged victim's wife, who later followed and confronted the gang, a judge was told.
In her statement, the woman claimed that two men matching Mr McCrory and Mr Morgan's descriptions arrived at her property in Omeath on 21 April and asked to speak to her husband.
She told police that when she told them that her husband was shopping in Newry, they handed her a piece of paper with a phone number and the name Kevin on it.
Her husband was told to phone this man when he returned, according to her account.
Prosecution counsel Nicola Auret said the woman claimed the men later spoke to her husband in a car as they were leaving.
"He came and told her the men had demanded £35,000 from him and if he did not (pay) they would return the following day and shoot him dead," Ms Auret said.
According to the prosecution the men claimed to be from the INLA.
Arrested
The court was told the alleged victim's wife got into her car, followed the men and confronted them in Omeath village.
"She told them never to threaten her family again," Ms Auret added.
It was alleged one of the men swore at her before driving off.
Police arrested the three accused after receiving details of their location from the woman.
Details were set out during a prosecution appeal against a Magistrates Court decision to grant bail to the suspects.
Lawyers for the three accused argued that the main alleged victim - the woman's husband - has so far failed to co-operate with the police investigation by providing a statement.
The judge, Mr Justice Treacy, adjourned the appeal hearing until he receives further information from the prosecution.
He requested details of a hearsay statement given to police.