Significant improvements made in management of life prisoners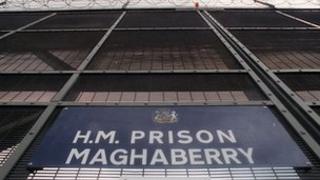 Life sentence prisoners are being well managed in NI both in prison and while under supervision in the community, according to a report.
The report, published by the Criminal Justice Inspection (CJI) for Northern Ireland, said significant improvements had been made since its 2009 review of how prisoners were prepared for release.
The report said public protection must be the priority in the management of life prisoners.
Deputy Chief Inspector Brendan McGuigan said: "Protection of the public must be at the forefront of any decision to release life sentence prisoners.
"It is vital that they are subject to thorough assessment and testing before they can be considered for release as they have been convicted of the most serious offences.
"Since our inspection in 2009, we have found that significant progress has been made in the management of indeterminate sentenced prisoners. The Probation Board for Northern Ireland (PBNI) and the Parole Commissioners for Northern Ireland have developed comprehensive rules and standards to guide Probation Officers and Parole Commissioners in the detail of their work.
"In addition, the Parole Commissioner's administration and contact with criminal justice agencies have improved, which has led to better case management."
The report has made three recommendations including the need to reconfigure the role of psychology services in the prison service.
Mr McGuigan concluded that the report's recommendations, if properly implemented, should significantly enhance the quality of risk management and prisoner resettlement, while also delivering financial savings.
Justice minister David Ford welcomed the report.
"I am pleased that, on the whole, inspectors found that the arrangements for working with life and indeterminate sentenced prisoners to reduce their risk of offending and support their return to the community are being well managed.
"I welcome the progress noted within the report to enhance the provision within custody and the assessment that those on life licences are being carefully managed in the community by the probation board.
"This is a good example of the type of work that can be done to encourage and support the rehabilitation of offenders and provides a good platform from which further improvements can be made."