Organ donation registration call made by Public Health Agency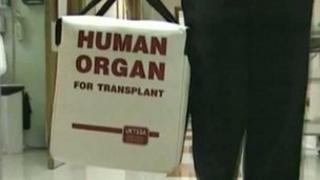 Less than half of families in NI are giving permission for organ donation if the wishes of loved ones are not known.
The Public Health Agency has encouraged people to sign the donor register and express their wishes to family.
The call comes in time for National Transplant Awareness Week which runs from 9-15 July.
Dr Eddie Rooney, PHA chief executive, said more than 90% of families agree to donation if their loved one is registered.
"The PHA is asking people to reduce the waiting times for a transplant by helping to make sure more organs are available by signing up to the NHS organ donor register," he said.
"There are approximately 300 people in Northern Ireland currently waiting for an organ and 15 local people die each year because there are not enough organs available."
Dr Rooney also said it was also important that those who had signed the register told the people closest to them.
"Your wishes may come as a surprise to them at a distressing time which could result in consent not being given," he added.
Health Minister Edwin Poots said he recognised that views on organ donation were "personal and emotive".
"However, the fact remains that, despite the great improvements in donation over recent years, people are still dying whilst waiting on a transplant," he said.