Titanic memorial plaque unveiled at Harland and Wolff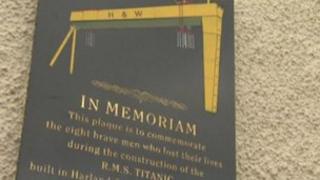 A memorial plaque has been unveiled to the eight shipyard workers who lost their lives during the construction of the Titanic.
It is located outside the clubrooms of Harland & Wolff Welders' club in recognition of the club's historic association with the iconic shipyard.
The Titanic sank on its maiden voyage across the Atlantic in April 1912 with the loss of more than 1,500 lives.
The plaque was unveiled by First Minister Peter Robinson.
Harland & Wolff Welders club treasurer John Davidson said it was an important symbol for the local community.
He said: "We're all proud of our history and our traditions.
"As people drive past (the plaque), walk past it, they'll be able to see and remember that there was eight people died in the construction of the Titanic."
To mark the centenary of the ship's sinking, a £77m Titanic Signature complex opened in Belfast at the end of March.
In just two months it had attracted 200,000 visitors.
A Titanic Memorial Garden was also opened at Belfast City Hall.