Philip Johnston companies insolvent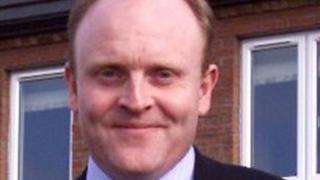 More property companies partially controlled by the east Belfast estate agent Philip Johnston have been declared insolvent.
Tumpher Ltd and Claymore Properties have been placed into administration.
Receivers have also been appointed to assets of Asgarth Properties and Lighthouse Property Consultants.
Mr Johnston's estate agency business is not affected.
Among the assets placed into receivership is a property at the K Club in Straffan, County Kildare.
It was in the control of Asgarth Properties and the receiver was appointed by Bank of Ireland.
The bank has also appointed receivers to houses in the Woodvale area of Belfast and flats in Manchester.
Mr Johnston's partners in the companies are business people from east Belfast and north Down.
Earlier this year another of his firms, East Development Company, and two subsidiaries were placed into receivership.
Collectively they managed a portfolio of 37 residential properties in Northern Ireland as well as property in Northern Ireland, Scotland and England.
They owed First Trust Bank almost £4m; the bank is unlikely to recover all that money from the sale of the properties.